Announcements
Subscribe to posts
Store is Open Now - August 4th, 2017 (3 weeks) to place orders.   Click Maverick's Square link to begin shopping.
Support Milford's Michael Boucher.  You can get your tickets or make a donation to your favorite player (or players from your favorite school) at: http://dhmc.convio.net/site/TR/CHaD/General-CHaD?px=1001602&pg=personal&fr_id=1100 The game is Saturday , June 30 at the University of NH Wild Cat Stadium @3:00 p.m.
Support Milford's Owen Clary.  You can make a donation to your favorite player (or players from your favorite school) at: https://www.firstgiving.com/fundraiser/owen-clary/shrine-maple-sugar-bowl 
Parade starts at 3 pm
​(Right down Main Street)
Kickoff at 5:30 pm 
Castleton University, Castleton, VT
190 College Drive
Castleton, VT 05735
http://shrinemaplesugarbowl.com/index.html
August testing will be Aug 8th report at 8:45am and testing at 9am at the high school.   Please e-mail the Director Marc Maurais at
mmaurais@sau40.com
to reserve your spot.  
Baseline testing is required for all incoming Freshman, Juniors and anyone that hasn't tested before at Milford High whom intends to participate in school athletics.
New Hampshire Football Showcase July 23, Bedford High School
The Showcase gives players an opportunity to perform football-specific drills in front of college coaches. This year's Showcase will be held July 23 at Bedford High School. Anyone interested please go on the Showcase WEBSITE.
The Daily Schedule 9:00am-1:00pm (check in starts at 8am for height and weight)
June 25, 2016
All-Star Game, Kick-off at 5:30pm (Saint Anselm College)
To donate to Milford's player or for more information:
http://www.kintera.org/faf/home/default.asp?ievent=1153472&lis=1&kntae1153472=C46392653B6D4040A87BB3CEEFE61226
Tickets go on sale Monday, April 4, 2016.
The CHaD NH East-West High School All-Star Football Game, powered by the Bedford & Nashua Ambulatory Surgical Centers, features New Hampshire's top graduating football players in a battle of East vs. West. The game has raised over $1 million in its first four years for critical programs at the Children's Hospital at Dartmouth-Hitchcock, including the Kristen's Gift Endowment Fund for children fighting cancer at CHaD
shrinemaplesugarbowl.com
Shrine Bowl Again In Prime Time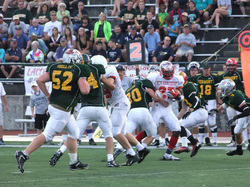 Castleton, VT.   – The Board of Governors of the Shrine Maple Sugar Bowl, at their October meeting, voted to hold the 63nd Annual Bowl Game at Castleton University. The game will be played Saturday, August 6, 2016 with the usual spectacular parade at 3:00 p.m. followed by the football game at 5:30 p.m.
The decision to host the game at Castleton again was a direct result of the successful experience of the 2015 game. The goal of the game is to provide funding to support Shriners Hospitals for Children. The contributions from the 2015 game far exceeded those of the past several years combined.  With further enhancements anticipated for the 2016 game, expectations are high that we can do even better.  


President Dave Wolk states; "We are delighted that Castleton will once again be hosting the Shrine Maple Sugar Bowl this year. Last year's parade and game were excellent examples of the Rutland Region coming together with the University to embrace such a wonderful cause, supporting both the philanthropy of the Shriners and the efforts of the student-athletes. We promise yet another fantastic experience for players, their families, fans, coaches, and Shriners in 2016. It has been wonderful to host Shrine players and coaches from both Vermont and New Hampshire for the past three years during their training camps, and we now hope that the parade and game have found their permanent home on our beautiful campus and in the Rutland Region."
Dartmouth was home to the Shrine Maple Sugar Bowl from 1958 to 2014, with the exception of seven years: 1967 when the game was played at UVM, 1968 at UNH, 2006 at Plymouth State and 2009 -2011 at Windsor High School followed by Castleton in 2015. All of these moves were the result of stadium renovations.
---
The Maple Sugar Bowl Board of Governor's review of the 2015 game, revenue and expenses between Castleton and Dartmouth was the main reason for selecting Castleton for the 2016 game. Attendance was up in 2015 and hosting the game at the same venue as the training camp proved to be very beneficial. The beautiful Castleton University Spartan Stadium, their staff and support help also contributed to the success of the game.
Arguably the Dartmouth venue is the most central and ideal location for all players from the twin State region. With the 2015 game location being the same as the week-long training camp, expenses were substantially reduced. The experience of the parade ending at the stadium and main parking lots, proved to be very successful and the air was electric with energy leading up to the game. The Board of Governors will continue to look at all options for extending this historic and traditional game into the future.
Shriners Hospitals for Children, the world's greatest philanthropy, are located in 22 locations around the US, Montreal Quebec Canada and Mexico City. Our patients travel from various distant locations to receive their world renown care. We would ask that everyone understand the economic strength of the 2015 game and can accept the sacrifice of the additional travel distance to the south western Vermont venue in support of our patients.
The game brings together some of the finest high school football players in Vermont and New Hampshire. The head coaches for the August 2016 classic will be announced in November and players for game will be announced in February.

Thanks to all that made the 2015 game successful. We look forward to working with you to make the 2016 game even better.
Kristi C. Morris
General Chairman
Friday, August 23, 2013
By JOE MARCHILENA
MILFORD – Keith Jones knew from the time that Harrison Urda was in youth football, he would someday play an important role for his Milford High School varsity team.
How could he not? Urda is the son of a football coach.
"He was going to be the quarterback, or something like that," the Milford head coach said. "It's just how it goes."
As the Spartans prepare for the 2013 season, that task is made a little easier thanks to Urda, who will be a senior, and returns as a starter at quarterback and in the defensive backfield.
"Any time you have an experienced quarterback returning is a bonus," Jones said. "Not to mention he's a great kid. He got elected as a captain by a ton of votes. He started every game on defense as a sophomore and got to play some quarterback at the end of that season. He came in last year as a veteran on defense, so that was huge for us. His defensive play was just as important as his offensive play."
The way Urda is called upon to play offense in Milford's wing-T system is a lot different than many of his peers in the area.
The Spartans only throw the ball when its a necessity and rely heavily on misdirection in their running game, something that's made a little bit easier thanks to the stature – literally and figuratively – of the quarterback.
"Harrison is the prototype wing-T quarterback," Jones said. "He's small in stature, but big in heart and he's not afraid. There's no fear. There are times he gets rocked and he gets right back up. It helps in the deception of the wing-T. When you have a 6-5 kid out there, everybody knows where the football is.''
"I don't want to be the individual who is the big star and throws touchdowns," Urda said. "I want to be the team player and get the ball to someone who can get in the end zone."
Ever since his days playing for the Milford Mustangs, Urda has been a quarterback. And he's always been on the varsity sidelines, first at Merrimack, where his dad, Rick, was the head coach. In 2008, Rick Urda moved over to Milford as an assistant.
"Whether he was at Merrimack, or here, he was familiar with the players," Rick Urda said. "He got to hang out with them, and the older kids are always accepting of the younger kids, whether its a coach's son or some other kid. They always took him under their wing.
"Keith and I have been friends for years, before I even stared here. That familiarity with him and the coaching staff, I think it gives (Harrison) a sense of comfort.''
That comfort helped Urda start as a sophomore, and he got a tough introduction to the varsity game. In the first game of the 2011 season, a win over Londonderry, Urda took a shot at the end of the game that left him on the ground momentarily.
"As soon as the game was over, I was the first one off the field to congratulate and hug him," Rick Urda said. "I'm very proud of him. He does a lot of hard work. He doesn't need to be poked, he goes out and he knows what it takes to be good."
While there can be some negatives, the younger Urda appreciates the luxury having a coach around at all times.
"It's special and it's hard at the same time," he said. "He pushes me because he wants me to be good.''
There was a lot of good last year, as the Spartans went 7-2 in Division III and hosted a playoff game for the first time since 2006. With the NHIAA's realignment changing the division format – from six down to three – Milford will now be competing in a Division II conference with Souhegan, John Stark, Trinity and Windham. Four of those teams made the postseason last year, and only two will this season.
"We were so close last year, and as soon as it ended, we all got together and said 'next year is our year,' " Urda said.
"It's one game at a time and beat your opponent. Just getting into the playoffs and winning it all, that's our goal."
For Milford to be successful, it will start with Urda, and that path to success is playing mistake-free football.
"Do what he does and be efficient," Jones said. "Don't turn the ball over and don't do too much. Be an athlete. He's not Tom Brady and he knows that. The good thing is that he doesn't try to be anything he's not."